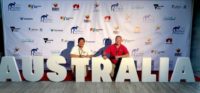 UPDATED October 5, 2020
Thanks for stopping by today!
Although we haven't done a major overhaul to these pages in quite some time, we decided to make a few minor changes earlier today.
You'll notice we don't list our phone number any longer. Instead, we're asking folks to contact us via e-mail ().
We didn't make this decision lightly, and believe us, it was tough to let go of our original phone numbers. When Charles first started the business he bought a block of numbers and we had held onto them for years, even when we began to operate virtually. Recently we began to realize that as we no longer have a "brick and mortar" office it just didn't make sense to keep them.
As our existing clients have our mobile numbers and, in the age of both COVID-19 and the virtual office, we found that most communication is done over platforms such as Zoom and via instant messaging and e-mail. It just made sense to cancel our remote call forwarding and thus our "land line" telephone numbers along with it.
Think of this website as more of an online brochure. Be sure to follow our Facebook page where updates are made on a more regular basis.
Thanks for all your support over the years and let us know how we can help you!