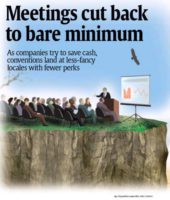 By Roger Yu
Originally posted April 13, 2010, USA Today
As companies try to save cash, conventions land at less-fancy locales with fewer perks. Meeting planner Ronni Epstein is giving her cost-saving effort the old college try.
Epstein, regional director of development for Crohn's & Colitis Foundation of America, has a slashed budget this year. So returning to the Millennium Biltmore Hotel in downtown Los Angeles for the foundation's annual convention would be out of the question. Instead, she's going to an unlikely venue: University of California-Los Angeles.
UCLA leases its conference center to groups looking for places to meet and at the right price for Epstein – about half what she spent last year."I'm surprised we didn't think of it sooner," she says. "I went to college, too, and I don't remember the school having conferences."
University campuses, such as UCLA and the University of Maryland, do host conferences. And they're increasingly appealing places for businesses, associations and other groups to have conventions as meeting planners face tight budgets and low attendance during the economic slump. They're less expensive than the fancy hotels, resorts, big convention halls and exotic locales they met in before the recession.
And they're less controversial. Companies have been taken to task for extravagance during hard times. Insurance giant AIG, for example, caught grief from Congress for having a luxurious incentive meeting at a St. Regis hotel in Southern California in 2008 after being bailed out by taxpayers.
So planners like Epstein are working overtime to find increasingly creative ways to slash costs.
"After AIG and what Congress said, meeting planners, if they still have a job, are charged with saving as much as they can," says meetings consultant Joan Eisenstodt. "There is no organization not trying to save money on meetings."
The changes could have lasting effects on the conventions and meetings business if groups decide they can stick to lower-cost affairs when the economy rebounds.
"I don't think we're going to go back to what we've had in the past in the next four or five years – or ever," Eisenstodt says. "There's the pressure to save. We're using more virtual access than ever. And airline cutbacks are making it harder and harder to get there. But in order to have a good meeting, you have to spend an appropriate amount of money. If we cut everything that makes it good, why bother going?"
Some of the changes meeting planners are making are obvious: shorter conventions, going to less-expensive cities or choosing suburban locations rather than higher-priced downtown venues. Others are more subtle but can save thousands of dollars: fewer coffee breaks to save on catering costs, minimal stage sets, even eliminating bottled water.
The cutbacks are having an effect on the travel industry. Companies, associations and nonprofit groups' spending on meetings, conferences and trade shows constitutes about 12% of total travel spending. And last year, spending fell by 15% to $85 billion compared with 2008, according to the U.S. Travel Association.
And it hasn' t come back. A survey by Meeting Professionals International of its members last fall indicated members would spend about 3.5% less per meeting this year than last. That's on top of a 6% drop in spending last year compared with 2008, members estimated.
Larry Luteran, Hilton Hotels' senior vice president of group sales, says the recession's impact on group meetings is more pronounced than in previous down cycles.
"This has been very unique," he says. "In this downturn, everything has been scrutinized. You need to sell the meeting before (it takes place). You need to have good business reasons."
The belt-tightening has prompted changes, such as:
-Taking advantage of cheaper travel and meeting dates. AARP, for instance, moved an educational conference to the week before Thanksgiving because hotel room rates were 50% cheaper than the dates it originally wanted in late October.
-Shortening stays and cramming in more tightly focused sessions. Terri Ribble, a meeting planner in the Dallas area, says she shortened a recent client event, a gathering of natural gas industry y professionals, from three days to a day and a half by lengthening the session days, jamming in more content; and placing some social events such as golf tournaments at the end of the program
-Consolidating events. Goodwill Industries is lumping two events that would normally be separate – a board meeting and a lobbying conference – into its annual member training program in late April. Instead of rotating the meetings into other parts of the country as it has in the past, it'll take place in Washington, near its corporate headquarters. That eliminates travel by headquarters employees, says Sekeno Aldred, a learning events specialist at Goodwill.
More aggressive planning
Planners are more aggressive in striking bargains with hotels. They're insisting on lower penalty fees for last-minute cancellations and refusing to place a deposit or insisting that any deposit be placed in an interest-bearing account. They're also giving hotels more conservative estimates of reserved-room blocks.
For its 2009 convention, the National Association of Free Will Baptists in Tennessee paid Hilton Cincinnati $12,000 in penalties because it couldn't fill 90% of the rooms it promised to occupy due to last-minute cancellations. Consider it a lesson learned, says Keith Burden, who heads the organization. He says he'll no longer sign a contract with a 90% "attrition rate." For its convention this year, he negotiated 80%.
When World Stem Cell Summit was considering Detroit for its 2010 annual meeting, Marriott Renaissance offered to pick up airport transportation for some top officials. The group declined the offer and had the hotel agree to apply a discount to the master account, says Charles Massey, whose firm, Synaxis Meetings & Events, organized the event.
It never hurts to ask for freebies, says CB Wismar, director of events for AARP. For its convention this year in Orlando, AARP negotiated free Wi-Fi and use of health clubs at some hotels.
Planners also aren't afraid to cut hotel costs by going to outside suppliers for convention supplies, equipment and staff. As Leslie Zeck, director of meetings for the American Council of Engineering Companies, was preparing for its annual convention later this month, she was approached by an audiovisual company that was setting up lights, stage sets and projectors for the convention preceding hers at the Grand Hyatt Washington. The company proposed to keep the equipment at the hotel ballroom so that Zeck could save on installation and loading fees.Zeck's convention budget has been sliced 10% this year, and taking up the company's offer saved her about $10,000."We're getting more equipment than what we'd have purchased on our own," Zeck says.
In the past, Goodwill typically relied on hotels for its audiovisual equipment. But it took the business to outside vendors for the first time this year. It's saving the organization about 30%. "We're now seeking competitive bids whenever possible," Aldred says.
Some planners bypass full-service hotels altogether.
Colorado-based Unique Venues, which matches meeting planners with non-traditional meeting venues, has seen the number of leads grow 30% in the last year, says President Chuck Salem.
In addition to university campuses and suburban conference centers, even camps and cruise ships are generally more affordable than full-service hotels in city centers, Salem says.
An overnight meeting at UCLA, for example, can start at about $135 a person, including a meeting room with audiovisual equipment and three meals, he says. And it's not dorm cafeteria food.
"They have sushi, Thai and Italian," he says. "And you don't have to wear flip-flops to go to the bathroom."
Lisa Block of the Society for Human Resource Management says she has scheduled 40 seminars this year in conference centers, most of which were at hotels in previous years. Another bonus: Conference centers don't charge attrition penalties, she says. "We're watching our pennies but trying to be careful not to impact quality and experience."
Obvious penny pinching
For conventiongoers, the penny pinching probably is most noticeable in exhibit halls and seminar sessions. They're seeing fewer celebrity speakers. Buffet-style dining is replacing plated lunches and cocktail receptions. And there are fewer handouts, brochures and goodies – almost anything to save a buck. For her annual convention this year, Block has eliminated some direct mail sent to 250,000 society members. They now get more "bite-size" e-mails. Handout material for the convention – such as the attendee list and speaker handouts – will be posted online for members to view and, if they want, print at home.
The Pacific Coast Reproductive Society has asked its convention hotel to eliminate bottled water – which can cost as much as $5 a bottle – and install water jugs in meeting rooms. It also distributed reusable plastic water bottles instead of paper cups and saved "thousands of dollars," says Massey of Synaxis Meetings, which planned the event. The non-profit organization also replaced convention tote bags with cotton bags that can be used at grocery stores.
More organizations are also refusing to hire expensive speakers. AARP had considered several marketing "industry celebrities" for its meeting in Los Angeles in November but found hiring university professors who specialize in AARP-demographics is about 75% cheaper. The Society for Human Resource Management's annual convention will have 180 concurrent sessions with about
200 speakers, about 15% fewer than 2009.
Those attending the American Council of Engineering Companies' convention will have to settle for breakfast sandwiches and burritos, instead of a full breakfast from the hotel's menu. "If times were great, we'd have given them a full hot breakfast buffet," says Zeck of the American Council of Engineering Companies.
At the World Stem Cell Summit in Detroit in October, attendees will get box lunches – minus the pasta salad. "It was just a couple of bucks," says Massey of Synaxis Meetings. "But multiply that by 1,200."